Lakes and Other Fun Stuff
So about time I posted, eh? One reason why I haven't posted in a long time (nearly two weeks) was because I was on vacation up to my family's lake cabin ever since last week Tuesday (and I am lazy. Very, very lazy).
So on Tuesday last week I drove up to my cousin's house near New Ulm, MN and stayed the night with them (my two cousins are 15 year old Kirsten and 12 year old Ross). Then Wednesday morning (like 8 AMish) we drove the 3.5 hours up to my cabin on Pelican Lake north of Brainerd, MN. BEAUTIFUL lake. It is very clear water. For example, when the water is up to my neck (about five feet and some inches or so) I can still clearly make out my feet at the bottom of the lake, plus the feet of my friends a few feet away. The beach is stellar too. Like 30 yards of white sand, no rockyness or anything like that in the lake/beach. Just sand, not even algea on the lake floor until you are like 150 feet out. And I mean, just look at this picture of the sunset over the lake...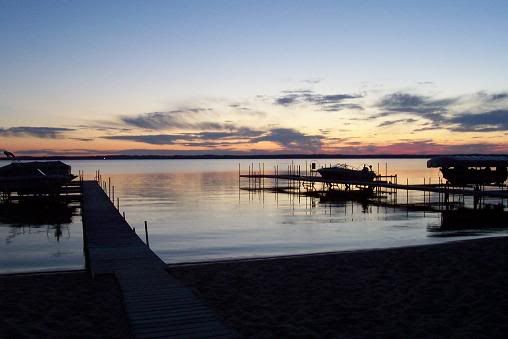 Ahh...pretty, ay? Well, here is a view of our beach from the dock during the daytime...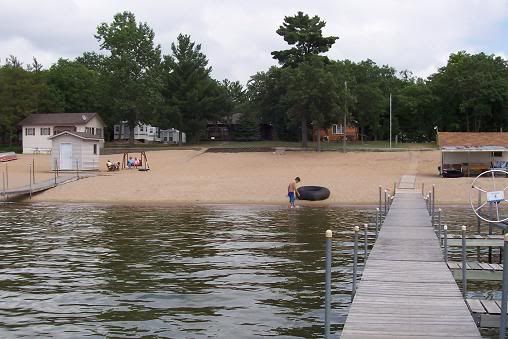 Also pretty. A nice, big area to play frisbee, baseball, bury people/treasure, and just bask in the beauty of it all. Gotta love it. So my cousins and I get up to my lake on Wednesday afternoon and just hung out all day, swam a bit, and talked with some of our other cousins up there (our extended family has like 12 cabins or so in the immediate area on the same beach front, so it is a huge family party during the summer).
Thursday was a plus when some of our richer cousins took us tubing. We hung out with them the rest of the day, doing the normal beach stuff (volleyball, frisbee, kicking sand at each other, ya know). This picture is a great shot that encompases the fun and adventures we had that day...
(That is me jumping, just so ya know)
Then we finished the day off by going and seeing the movie "Harold and Kumar Go To White Castle." It was good, but not as good as I thought it would be. But still worth a cheap laugh. The TV commercial about marijuana in the movie is worth the admission fee by itself; I nearly pissed myself when I saw that!
Friday was tons of fun too even though the weather turned a bit sour (windy, cloudy, ya know, not lake weather). But we had fun playing Xbox and Texas Hold em'. Then that night some of my buddies from Luverne came up. I will use their Halo alias's. The Worst G and Dr. Love. Played Halo and FIFA 2004 on Xbox that night, great times.
Saturday was lots of fun, but the weather was HORRIBLE! Rained on and off and was overcast almost all day with wind. We did jump in the lake for a bit in the afternoon just cause we felt we had to. The rest of the day was Xbox and Poker.
Sunday rocked hard though. Weather perked up majorly. My great-uncle Alan took me, Ross, The Worst G, and Dr. Love tubing on his boat, and when he let us off (CRAZY driver, but awesome) we just played in the lake for a long time, as shown here...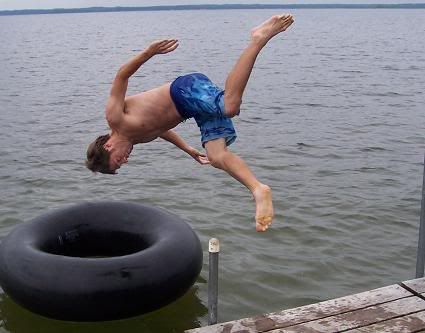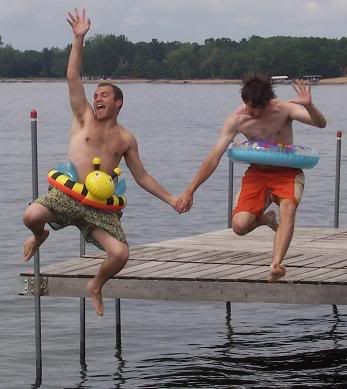 Yup...good times.
Monday we all headed out. When I got home, I remembered that Luverne had a HUGE wind storm the day I had left. Branches and trees down all over town. The corn was blown flat in most surrounding farms. Pamida had like half of it's roof ripped off, and tons of other buildings did too. LOTS of damage. I got some cool pics driving into town...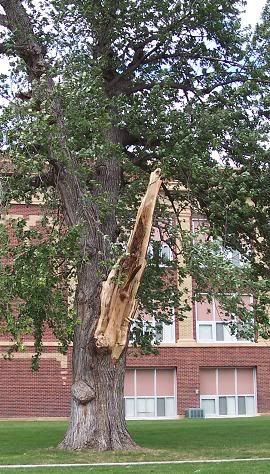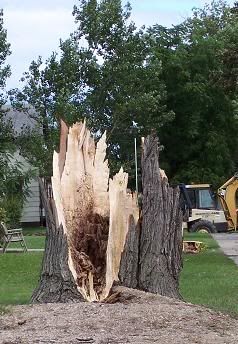 After that, I sat around being bored, so I convinced my Padewan (Jedi apprentice) that he wanted to go to Sioux Falls with me, so we did and I bought the movies "Training Day," "Zoolander," and "SLC Punk" for only $24 total. We then watched SLC Punk. Very interesting movie, and I definatly enjoy it.
*Cue American Gladiators Theme Song*
Posted by ambo0016 at August 10, 2004 1:14 AM