This has cool links that I think everyone should see, and blogs with Ozayr's name seem to always be the "blog of the week," so I hereby title this OzayrOzayrOzayrOzayrOzayr.
Ok, this does not directly respond to the blog prompt, but I promise, I will get to that soon. Well, actually, I still have yet to figure out what it means, so by soon, I mean 2 1/2 days from now, when something clicks and I get it. I suppose that is the general idea, anyway.
Anyway, in reference to the actual point of this particular blog entry, check out this sweet article my parents mailed me (best check soon, because I assume that it's not long from being filed in the Sheboygan Press archives, which yes, you have to pay to view). Refined Design I'd suggest actually reading it, but in case you're in a rush, it's about a home near where I grew up designed by Chicago architect Margaret McCurry. In addition to being featured in the Sheboygan Press, the house was, much more importantly, featured in Architectural Digest (which I thought I was subscribed to, but I guess either the subscription ran out, or it's setting at my parents' house...oops). Although the Architectural Digest website doesn't have the article posted, for obvious reasons, it does have this excellent slideshow, which I also recommend checking out, regardless of if you are in a rush. Bentley Home-Margaret McCurry
Cool, right? I wish you could see the rest of the Sheboygan Press pictures--they're also really cool. Speaking of which, here is how the original picture I saw looked: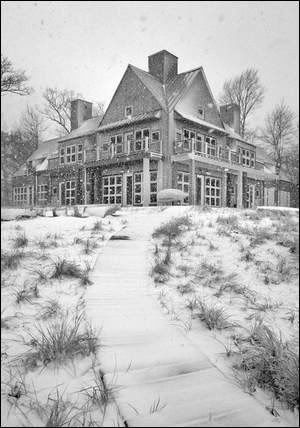 A lot different in black and white! At first glance, I thought the article was a feature on some rural Wisconsin farm, and was wondering if maybe I knew the farmers and that's why my parents sent it to me. From this angle, the house really does represent a Wisconsin farm home. You can tell that the roof is metal, which really is not all that uncommon, but what you can't see in black and white is that the rest of the house is galvanized steel, and has extremely brightly painted trim. Also hidden in this shot is the fact that the entire house is symmetrical and V-shaped, and the cool, nautical-inspired entry. I love how this blends not only into the rural Wisconsin landscape (especially in the black and white wintery picture), but also into the essence of the lakefront, and, all the while, stays original. I really like the idea of creating a unique building while still respecting the local culture and landscape. (For example--the Frank Gehry Disney Concert Hall totally complements its area, while still being creative, while the Weismann looks pretty cool, and works alright with the river, but not really with the rest of the surrounding buildings). Here is the color picture that was in the Press: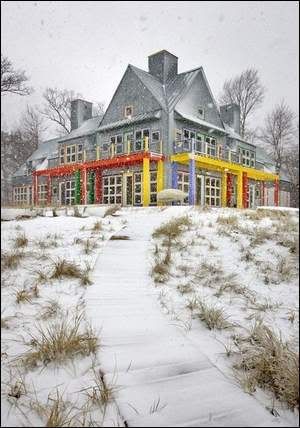 Apparently this house is sometimes called the "Crayola House" by locals. Any guesses why? Hmm...I like it, though. Wisconsin farmhouse+beach house is cool with me. Actually, this really speaks to my personality--I love winter and snow, but also the summer beach atmosphere. Hey--this could work as a starting point for my next blog! (note to self...)
Alright, so we have successfully established that this house obviously looks cool, especially in its context, right? Right?! *threatening face* Good. But, what really sparked my interest were some of the ways that the house physically is built for it's environment (opposition!!!). The steel outer walls help the house stand up to the wind from Lake Michigan, which can get pretty strong sometimes (Trust me--I grew up a few minutes away from the lake). Also, awning windows are used to let in light and ventilation while keeping rain out (and presumably any spray from the lake on windy days). The article never mentions sustainability, but I suspect that these help tremendously with cooling costs. Additionally, an air exchanger is in the house to help with humidity, and the concrete floors not only are easy to clean sand off of, but are heated in the winter (I'm guessing these last two are not overly environmentally friendly, but rather necessary nonetheless). Along with concrete floors, the interior has reinforced walls to display various collectibles in the couple's possession, and also to allow the installation of handrails as they age.
This house is so well-designed that it made me extremely curious about the architect, Margaret McCurry. The architectural digest website has an article on her, which you may view here: Margaret McCurry. Since I am working on sustainability for my research project, I found this idea/quote particularly inspiring: "I've tried when possible to practice passive solar architecture, orienting buildings correctly and using cross ventilation to minimize energy consumption [in addition to using solar and geothermal energy with some clients]." Beyond vindicating my initial suspicion that the window placement/type was sustainable, this gives me a great foundation to work with for the project. Since my group's main topic of sustainability has a subtopic about improving slum life, we have chosen to look at how local areas such as Cedar-Riverside and North Minneapolis can be made more sustainable, but in an affordable manner. Hello, duh! Passive sustainable design! Of course, while this can be easily implemented in new construction, it will be more expensive and harder for older homes, but I'm betting a lot of them need window replacement anyway, so why not find more sustainable ways to do that? I know that the project research still has a ways to go, but who knew a random article my parents mailed to me on a whim could be so helpful? Luck, luck, luck. :-) Anyway, if you are interested in Margaret McCurry, here is her website: More McCurry Her style is listed as "a synthesis of modern classicism and the American vernacular," so if you are at all interested in that (or just are curious what the heck it is), check out the website. I know, I know, I hyperlink too much and add too many pictures. Maybe, though, someone else is crazy/cool enough to actually look at them. If not, these blogs will at least serve as a great reference for me! Ha!