Hunter S. Thompson Appreciation Day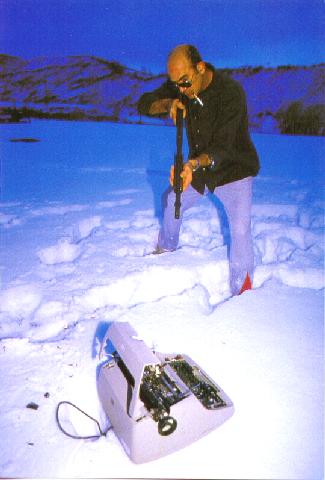 Shotgun Golf! The final article...
And the archive of his ESPN work.
"There he goes. One of God's own prototypes. Some kind of high powered mutant never even considered for mass production. Too weird to live, and too rare to die" — HST
They might just shot his (cremated) remains from a cannon. Fireworks!
Although HST's work is done, others take up the slack. Jewish journalist infiltrating a neo-nazi hate group? That meets at Applebee's? Yup, hilarity ensues. Gonzo continues. Film at 11.
Will Duke pass away now? Go not quietly into the night unless you have a huge wad of case, night-vision goggles, and a drug-filled date with a pair of Madonna look-alikes.
Nixon always brought out the best in HST. Especially the RN Obit.
From the Doonesbury FAQ:

Q: What kind of relationship, if any, does Mr. Trudeau have with Hunter S. Thompson? --H. Delano R., Long Beach, CA

A: Non-existent. The two have never met, although there was a brief but acrimonious exchange of letters in the mid-70s. Since that time, Thompson has uttered numerous public threats against Trudeau's person, threats Trudeau takes seriously.
There are a pathetically large number of HST fan site out on the web, but some of them have really good content. Like this one. Well, mainly this one.
Bill Murray met Hunter S. Thompson in the late 70's, prior to portraying him in "Where the Buffalo Roam." He was driving a car back from the coast for Lorne Michaels (I believe) and met Thompson in Las Vegas.

They were sitting around a pool. Murray got tied to a chair (horsing around) and was thrown in the pool. He figured, no sweat, he could stand to his full height (6'1") and extricate himself from the socks that tied him to the chair. One thing though, when you are strapped in a chair, you are in a seated position and not able to extend to your full height. After momentary panic by the ever cool Bill, Thompson saw that Mr. Murray was floundering and hauled him out.

(This story was broadcast on "Focus with Bill Murray" hosted by critic Elvis Mitchell, and repeated last year by Bill Murray at the Brooklyn Academy of Music Film Festival devoted to him, 4/13/04). On the GettyWire Image page if you type in Bill Murray and scroll to all images within 12 months, and go back to April 13, 2004, you will see the photographs of the re-creation.
MsGeek.org thoughts on HST's death.
Longer quotes and stuff below...


"Some people will say that words like scum and rotten are wrong for Objective Journalism--which is true, but they miss the point. It was the built-in blind spots of the Objective rules and dogma that allowed Nixon to slither into the White House in the first place. He looked so good on paper that you could almost vote for him sight unseen. He seemed so all-American, so much like Horatio Alger, that he was able to slip through the cracks of Objective Journalism. You had to get Subjective to see Nixon clearly, and the shock of recognition was often painful." - HST, Nixon Obit
No relevance whatsoever for America. In 2005. Under the Dubya-crowd.
---
"This talk of sincerity, I confess, fatigues me. If the fellow was sincere, then so was P. T. Barnum. The word is disgraced and degraded by such uses. He was, in fact, a charlatan, a mountebank, a zany without sense or dignity. His career brought him into contact with the first men of his time; he preferred the company of rustic ignoramuses. It was hard to believe, watching him in Dayton, that he had traveled, that he had been received in civilized societies, that he had been a high officer of state. He seemed only a poor clod like those around him, deluded by a childish theology, full of an almost pathological hatred of all learning, all human dignity, all beauty, all fine and noble things. He was a peasant come home to the barnyard. Imagine a gentleman, and you have imagined everything that he was not. What animated him from end to end of his grotesque career was simply ambition — the ambition of a common man to get his hand upon the collar of his superiors, or failing that, to get his thumb into their eyes. He was born with a roaring voice, and it had the trick of inflaming half-wits. His whole career was devoted to raising those half-wits against their betters, that he himself might shine." - H. L. Mencken, on William Jennings Bryon (not Dubya believe it or not)
Posted by duver001 at February 24, 2005 2:13 PM