Blog #4:What Would You Do?
Okay...honestly the first thing that popped into my head when I read this blog prompt was Charlie and the Chocolate Factory.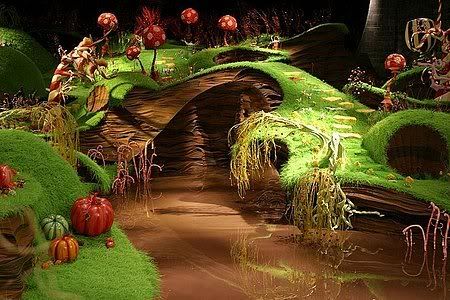 I totally forgot the other half of the blog; that would still have an impact on your environment. I was thinking "artistically". Well, I thought of building a chocolate factory just like the one in Charlie and the Chocolate Factory because I think it would be so cool to go into a factory and have a drink out of a chocolate river or take a bite out of big, giant gummy bears dangling from a tree. In a way, it does benefit the community because who wouldn't want to go to a chocolate factory and do what the kids do in the movie.(Haha just kidding)Seriously, back to busines. Hmm...What would I do? I really dont know what to do. Well...I do but nothing is popping up in my head. For starters, I would build a bullet train around the big cities like the one in Japan.
For one, it will save gas and end the air pollution our car is making. Also, it will be alot more convieniet for people who can't drive yet, has there license suspended, or those who hate driving like me to get around and beat the traffic we all hate to be in. And of course, the need for speed. Late for work or an appointment?! Have no fear the Bullet Train is here. The Bullet Train travels at 165 MPH so I'm pretty sure you won't have a problem getting anywhere on time unless you're just slow. It would be so awesome to have one especially in the Twin Cities because gas price is going up and probably it will cause less road rage for those who hate driving behind a slow ass car.
So, this is what I would do architecturally, artiscally, bodily, and lyrically that would still have an impact the environment. Yes...you have to think about safety and cost and how much it will benefit us or them...blah blah blah. Who knows? The US thinks too much. There are times you should relax and go with the flow.