Blog # 8&9: Critiques
Finally, I'm attacking this blog down! I don't know what Ozar meant by critiquing? Am I suppose to critique the goals presented in my section or the way how the group presented the goal? But, I guess I'm leaning more towards critiquing the goal. It makes sense that way.
Okay critique #1: Goal 1: Eradicate extreme poverty and hunger. Out of all presentations in my section, I found this one very sad because the group that presented this goal; they showed pictures of a lady selling mud cookies. I never thought eating mud or dirt was a possible choice to have something like that in the digestive body.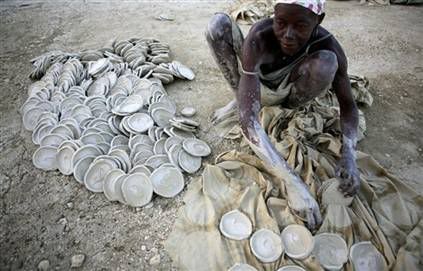 Well...this group presented an organization in Brooklyn Center, MN that helps send food throughout the world. But, I was wondering will this goal be achieve by 2015 set by the UN Millennium Development Goals? Because it takes I believe 6 or 9 months for the food that the organization in Brooklyn Center packaged for the starving people to receive it. I believe that takes quite a long time for starving people to receive food and by that time, many have died of starvation. And this is a question to all goals made by the UN. Is it possible to achieve the 8 Millennium Development Goals by 2015 no matter how much help is out there giving a lending hand? There is about 7 years left to reach these goals that I find it impossible because there are so much people out there in the world that we can get to at such a limit time.

Critique #2: Goal 7: Ensure environmental sustainability. I think it's goal 7 because this group presented the hardship and the cause of how China is effecting their environment through their work production. One image that stayed in my mind throughout the whole presentation of this goal is the image where farmers are working hard on their crops, but then you have the factory behind them dumping their waste into their crops which causes less crop production for themselves and for the people of China. I find it disturbing how they can destroy crops by just throwing their waste into other people's backyard. I would like to use the film we watched in class,
Manufactured Landscape
as a reference. The den they've been working on for which will take ten years to complete affects the pollution of China's air. Also, how computer chips and other electronic waste would dumped in front of home without being notified. As one from this group had said, there would be days where people in China would get confused if it's night or day due to gray sky from heavy construction work within the area.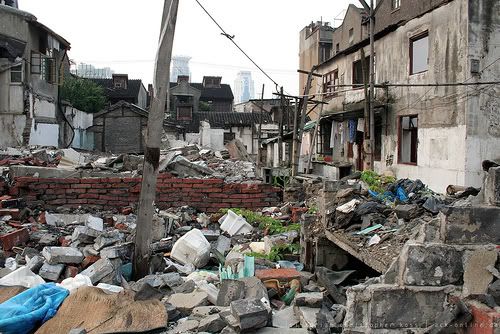 I find it sad and disturbing for people to have dump or waste as their front yard or backyard. Is this what the coming to? A waste land?!