expanding technology (pump it up!)
with around 1,000 tv channels, including a number of on-demand channels, the television sucks away at my life daily. but i enjoy it. the other day i was watching CSI or Star Trek or some other dork show i am absorbed by, and during the commercial break an infomercial grabbed my attention. infomercials are notorious for making the most ridiculous things appear to be a neccesity. today it was not a knife that could cut through a pipe but a belt that makes chairs comfortable. it is called the backbelt. here is what i took from their website:
how back belt works


"Make every chair your favorite with Back Belt. With just a few simple pumps you can create the perfect amount of support and cushion. It adjusts easily to any waist size."
my mind was sent racing back to the early 90s. does that pump remind you of anything? take a close look at their website to see how the pump works in the video. the pump is pretty much the same design as this pump: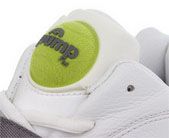 this technology was developed by reebok in 1989, and became all the rage in the early 90s as it even aided Dee Brown in winning the 1991 NBA slam dunk contest. they took the reebok pump shoe apart and wrapped it up in a backwards fanny pack to market it as a back relief product. now both players and spectators at sporting events can pump up before the big game to maximize comfort and performance. the pumpabilities seem endless and ridiculous.