punk rock chariot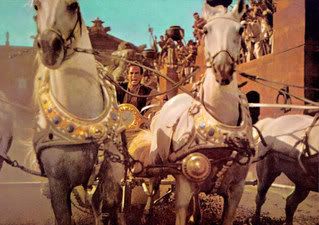 two mccrappy bowling games did not start the night off right. so i figured i'd just shrug it off with a peaceful midnight drive home. but 394 face decided to close the lowry tunnel so it turned into midnight rush hour. years of video games told me to just plow right through but i withheld my instincts. and patiently waited in line as four lanes merged into one.
other cars were less patient. you could say they were jack donkeys. they rushed down the side of the road looking to bud in line when no one gave them heads or tails. if i could pimp the punk rock van with one thing, it would be those chariot wheel spikes. then i could have swirved over and blew out the tires on these jerk drivers. sure that may make me a jerk driver, but i would think it heroic. a pack of high school kids squeezed by me and almost hit me getting off the hennepin exit. they sped ahead and gave me the bird. i didn't give them the pleasure of returning the gesture, because in my mind their tires were already torn apart by the wheels of death on the punk rock chariot. then they were sitting all sad on the side of the road. because they no longer had a chance at winning the horse race.
i should go to bed. i don't think any of this made sense.