knock, knock. who's there? george killan's cardboard cutout.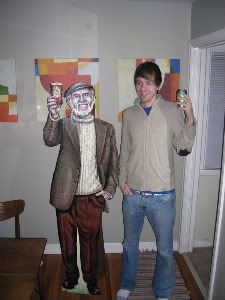 george killian's cardboard cutout who?
umm, that's it. it's not a knock knock joke. it's just a cardboard cutout tom got from work. he lives with us now. and while he's not a knock knock joke, he is a practical joke. tom and i like to hide him in unexpected places to catch each other off guard. i get home from work, open the door, and george is staring me right in the face. needless to say, my heart stopped for a lil bit. so i decide to get tom back. i sneak george outside his bedroom door in the middle of the night so that he greets tom in the morning. instead george spooked tom while he was on his way to a midnight pee. luckily he held it in. george doesn't only live indoors. one night when i got home, i opened the backyard gate to see george waiting for me. i just bout knocked george's head off. sometimes george backfires. tom hid him the other night in the kitchen, then in the middle of the night he went down for a water, but forgot he left george there. tom thought the large dark figure was a burglar, before remembering that's where he left george.
george is a fun new roommate.