On fabrication and fulfillment
Surely the machine is merely a brain which we get as potluck from nature. -Louis Kahn
The universe is literally as well as metaphorically a computer. -Neil Gershenfeld
Neil Gershenfeld and Louis Kahn know a few things about design. While their respective texts resonate quite separately of one another, the essence of their themes are similar. Both tell stories of the human process of creating to fullfill personal desires. Gershenfeld speaks of computation and technology in "Fab," while Kahn focuses on the introspective, spiritual manner of architecture in "Silence and Light."


[Louis Kahn]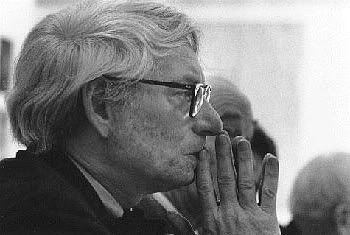 [Neil Gershenfeld]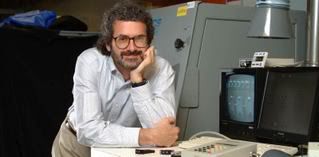 Gershenfeld explores the evolution of computation, from the early mainframe to the PC, and how these machines will continue to evolve to serve the unique needs of individuals. The personal fabricator is the ultimate realization of this need, developed in the form of a class at MIT called "How to Make (almost) Anything." He goes on to tell the story of how students with little previous knowledge or experience with engineering fabricated their own high-tech gadgetry to satisfy personal desires. "Such a future," he states, "really represents a return to our industrial roots, before art was separated from artisans, when production was done for individuals rather than masses."
Kahn spoke of light as architectural fulfillment. "Form follows desire as a realization of a dream or a belief. Form tells of inseparable elements." Light allows us to see these elements, to experience their realization. He reminds us that, without light, architecture does not exist. Kahn suggests architecture and light are inextricable, stating "...structure is the maker of light." The very existence of structure relies upon humans experiencing the conciousness of a composite order. He states, "There is in the design the consideration of the difference between the order of structure and the order of construction." In other words, the order of construction exists as a series of events occuring over time, while the order of structure is given an ecological significance; each part contributes to and relies upon all other parts of the whole..."A beam needs a column; a column needs a beam."

Kahn and Gershenfeld use different language to describe the processes of fulfillment, yet the fundamental logic of their texts reveals a commonality. Both speak of a deep-seated desire to turn away from the prevalant mass-marketing of goods and services to focus on the needs of the individual. Humans possess an inherent need to create meaning in their lives, and personal expression is one of the most important tools we use in order to reach this state of fulfillment. Creation is evolution. Light is knowledge. As stated previously in the entry on "Technopolies," our tools as well as our craft evolve as our knowledge increases. My own process of fulfillment involves finding ways to shed as much light as possible onto the lens with which I view the world, so that I might fully experience the journey as well as the discovery of knowledge, the universal enabler.