Click above for an expanded view of the Sinai Peninsula from the
U. Texas PCL Collection
.
Heading to Sinai for the weekend with some compadres from the dorm, this seems a fair opportunity for another map post. After all, some of you have expressed an interest in keeping up with my whereabouts.
The Sinai is cut off from Egypt proper to the west, and Saudi Arabia to the east, by the two branches of the Red Sea, the Gulfs of Suez and Aqaba, respectively. To get there, I will take a five-hour bus ride from Rehovot down to Elat (this is about half the length of the ride from Minneapolis to Chicago) on Israel's few-kilometer-long strip of Red Sea beach squeezed in between Egypt and Jordan. From there it's a short taxi ride to the Taba crossing.
A hotel in Taba was the target of the large bombing in the Sinai last fall, so there's a big debate whether that will suppress the crowds heading south this season. The general feelings is that it probably won't, since almost nobody (myself included) actually stays in the big resort hotels. Like most everyone else, I will be staying in a small cabin in a little beach town.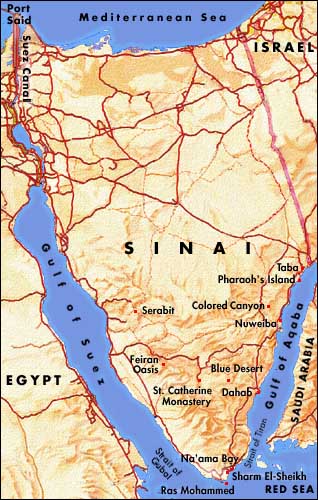 Another map of the Sinai, that shows the major sites of interest on the peninsula. Click through to
this page
and there is a clickable version; selecting a place name will take you to a short description.
If you're only going to the Sinai, Egypt will automatically give you a tourist visa at the border crossing. It's much more of a hassle to get a visa to, say, visit the pyramids. From there we'll catch a shared taxi down to Nuweiba (Nuway'bi') where we're staying. In addition to lounging and snorkeling in the reef, we definitely plan to hike in the Colored Canyon. If it looks reasonable, a trip to St. Catherine's Monastary would also be in order. Pictures and further discussion to follow, obviously, when I get back.
At the rate I'm going, I'm going to run out of pages in my passport within the year. Should have gotten the extended version.