Category "Chicago Cubs"
Category "Cool web stuff"
April 21, 2006
"Ouch!" or "Baseball life without D. Lee"
Yes, it looks like Derrek Lee will be in a cast and out of the Cubs lineup for up to two months. I didn't see the play that caused the injury on Wednesday night. I was in the kitchen at the time, packing my lunch for the next day. But I could overhear the announcers talking excitedly and bent an ear in the direction of the television. Then I called downstairs, "Are they saying Lee is injured?", following it up with an exasperated groan.
Oh well, the show must go on...
If there's a personal up-side to this, it is that I discovered a great, funny, and smart new podcast when seeking information (and consolation) about the injury. The Cubscast is a free podcast featuring Andrew Figgins, Zach Baliva, and Matt Sheppo -- a.k.a. Lou, Sneetch, and Sheps.
Today's episode (#139) features a lot of talk about the implications of Lee's injury and reflections on the bad karma of April 19th and 20th in history. Trying to lighten the mood, the topic later switched to the great job Ryan Dempster is doing as a closer for the Cubs: he has 23 consecutive saves and has yet to give up a run in 31 and one-third innings. To which one of them quipped, "it will only be a week before Ryan Dempster is involved in some horrific lawnmower accident."
But seriously, one of the things I liked about this Cubscast is that it wasn't all doom and gloom or a bunch of whining, which is a problem I have with some of the Cubs fan blogs. What can I say? I'm an optimist at heart. Go Cubbies!
BTW, looks like a call-up from AAA Iowa Cubs, Michael Restovich, will be replacing Lee on the Cubs roster.
Posted by rigd0003 at 3:26 PM | Chicago Cubs | Cool web stuff
Category "Computer-related"
Category "Cool web stuff"
April 5, 2006
Caffeine for your PC
I hate it when I'm working on something and my screen saver kicks in at an inopportune moment -- when I'm giving a presentation, installing software, staring at a blank page with nothing but "Chapter 4" written at the top and waiting for the writing muse to visit.
I'm also too lazy to go in and shut it off during those times. And I don't want to shut the screen saver off forever. But now I've got a great solution: caffeine for my computer!
Zhorn Software provides several nice freeware applications for Windows, including caffeine.exe. When I launch caffeine, it simulates a key press every minute to keep my PC awake. The icon on the task bar allows me to toggle caffeine on or off (indicated by a full or empty pot of coffee).
Posted by rigd0003 at 10:23 AM | Computer-related | Cool web stuff
Category "Cool web stuff"
March 2, 2006
House value estimator
Here's an interesting real estate web site I heard about from Bob Rankin's Internet Tourbus: Zillow.com. At Zillow.com you can type in a home address and see a basic description (number of bedrooms, bathrooms, etc.), the house's estimated value (it's "Zestimate"), and the estimated value for neighboring houses. You can also see how certain home improvements would affect the estimated value. Any changes you make are not saved. All of these features are available without having to subscribe or sign up for anything, just type in an address an go!
Posted by rigd0003 at 9:27 PM | Cool web stuff
Category "Computer-related"
Category "Cool web stuff"
February 22, 2006
Creating icons and favicons in Photoshop
I'm a very visual person. I think more with pictures than with words. That's why I'm always looking for ways to put more graphics into my life and onto my desktop. When I'm searching for files and folders on my PC, I'm slowed down by having all the icons look the same and having to read the file/folder name. I've started converting those little manila folder icons into ones that represent the contents of the folder. Now I've found a tool that makes this conversion much easier.
I just stumbled upon this post: Favicon - How To Create A Favicon.ico | PhotoshopSupport.com. I've mentioned favicons before, but what was most useful about this article was the mention of a free Photoshop plugin that will convert anything you create or open in Photoshop into an icon file (.ico). It even works in the cheap version of Photoshop that I use, Photoshop Elements.
The plugin, called ICO Format, is one of the free products offered by Telegraphics.
Posted by rigd0003 at 10:21 AM | Computer-related | Cool web stuff
Category "Cool web stuff"
Category "Humor"
February 10, 2006
Ring tones from They Might Be Giants
Worldwide Wireless © 2004
I'm a huge fan of the band They Might Be Giants. They're always coming up with something new and quirky. And now I can share that quirky love with John and Jane Q. Public with the help of the new They Might Be Giants ring tones!
Three tones to chose from. Let the entire city block know you are getting a call by choosing the brash "Phone Phone Phone." Or chose the more mellow ensemble, "Ring Ring." Finally, do your part for full disclosure with the "Call Connected thru the NSA" ring tone. Get 'em while they're hot!

Posted by rigd0003 at 2:05 PM | Cool web stuff | Humor
Category "Computer-related"
Category "Cool web stuff"
January 9, 2006
Google Pack
I've been doing lots of traveling lately and haven't posted in a while. I hope to post some pictures by the end of the week, and also comment a bit on my writing progress, but in the meantime, a quick mention of a useful bundle from Google.
The Official Google Blog had an item last Friday announcing a convenient bundling of PC software they're calling Google Pack. It contains a lot of basic software all in one place, all bundled in an updater that will periodically scan for updates.
Most of the software is Google's own products: Google Earth, Talk, and Desktop; but also Firefox, Ad-Aware, Adobe Reader, and the like. I had most of these installed already, but there were a few that I didn't. Google Pack lets you select only the pieces you want to download. But a nice feature is that Google Updater (which is part of the Pack) recognizes the existing software on my machine and includes it in it's check for updates.
That's all for now, but here's wishing you a healthy and happy start to your new year!
Posted by rigd0003 at 11:24 AM | Computer-related | Cool web stuff
Category "Cool web stuff"
December 13, 2005
Download subway maps to your iPod
Just read about this in the premiere issue of green*light e-magazine: William Bright has created iSubwayMaps.com, a web site where you can download subway maps to your iPod. There are maps not just for US cities but for major cities around the world. Jeez, that's cool!
Posted by rigd0003 at 4:46 PM | Cool web stuff
Category "Cool web stuff"
Category "Pix"
December 8, 2005
What a wonderful world...
This was the striking Astronomy Picture of the Day yesterday from NASA. It's actually a composite picture of satellite images taken both at night and during the day, plus artificial exaggeration of the lights.

The following companion picture was featured a few years ago, titled "A Digital Sunset over Europe and Africa."

Posted by rigd0003 at 11:02 AM | Cool web stuff | Pix
Category "Cool web stuff"
Category "Me"
Category "PhD Process"
October 28, 2005
Mind maps and Gantt Charts
A simple example of a FreeMind mind map
My thesis project is shifting into high gear now--hurray! But all the ideas that keep popping up, and all the leads I want to chase down, are in serious danger of being lost. I need a place to collect all the various aspects of my work, but in a way that the information is readily accessible, easy to organize, and will give me the ability to see the whole project at once, but also to focus in on a particular point.
The answer to all of this, I believe, is FreeMind. FreeMind is free (open source) concept mapping software that allows you to construct mind maps -- diagrams that depict the aspects of a topic as nodes, and the interrelatedness of the nodes with branches (called "edges") and arrows. Mind maps have a central topic node, with all other nodes radiating out from it. (Note: FreeMind isn't strictly in the Tony Buzan sense of Mind Maps®, but the concept is similar.)
My husband has been using FreeMind for quite a while now and finds it very useful. He uses it to plan projects, to plan meetings, and even to take meeting notes. And we've used it quite a bit at home for planning trips--especially camping trips where there's a lot of gear to keep track of. But I've not really thought about using for my work until now.
FreeMind has recently launched a new version with lots of great features. You have more choices and control over how things look, can add internal and external (web page) links for easy jumping, add notes to any node, and there lots of choices for exporting and publishing your map. There are several HTML and XHTML options, including one with clickable links. I like the "export as Adobe PDF" option for sharing with my committee members. Printing out these maps can be unwieldy, though. I had to print one out recently and wound up printing it on multiple pages in Adobe Acrobat, then cutting and taping the pieces together.
But printing isn't really the point of it all for me anyway. The beauty of FreeMind is that you aren't constrained by a page style, or an outline format, or margins. I can open it up and just start adding things without immediately trying forcing things into a hierarchy. Then when I'm ready to group items, FreeMind makes it easy.
As an aside, when I was talking with my advisor about mind maps, he asked if they were similar to Gantt charts. That was a term I didn't know, so I did a little research. It turns out that I had seen many Gantt charts before without knowing what they were. Gantt charts are used primarily in creating project timelines, something else that might be useful to keep me on track and finishing on time. Perhaps I can use it to create a reverse calendar for my dissertation. If you're interested, there is also a free open source Gantt chart software called GanttProject. Check out their demo--it's pretty good.
Posted by rigd0003 at 2:47 PM | Cool web stuff | Me | PhD Process
Category "Cool web stuff"
September 21, 2005
One-stop Site for Evolution Information
Just heard about this from the National Center for Science Education. The University of California Museum of Paleontology and the NCSE have teamed up to create the Understanding Evolution web site, dubbed "your one-stop source for information on evolution."

In addition to covering the basic history, description, and evidence for evolution, the site also features articles under the topic "How does evolution impact my life?", as well as evolution in the news, and resources for teachers. I especially like the FAQ page that includes questions like "What happened at the Scopes Monkey Trial?"

Even though I'm in the sciences, I find I need a refresher on various scientific topics. I'll definitely bookmark this one for future reference.
Posted by rigd0003 at 4:26 PM | Cool web stuff
Category "Cool web stuff"
September 3, 2005
Handy Firefox extensions
UPDATED Sept. 19, 2005 (Adblock Extension)


The Firefox web browser is made even better through extensions - add-ons that add special functionality. Here are some I've found especially useful:

· Adblock. This is a customizable filter to block all of those web page ads. And you can use the status bar at the bottom to see all the elements on a page and which of those are blocked. One feature I especially like is the option to not only just hide the ads, but to remove them, which removes the extra space that the ad took up. UPDATE: A feature in Adblock called OBJ-TABS is incompatible with Flash Player 8.0 (see news here). The only fix at this point is to turn off OBJ-TABS by going to Tools..Adblock..Preferences. OBJ-TABS is a feature that creates an Adblock tab next to suspicious objects on a page, making it easy to remove them by clicking on the tab. It is an extra function and not vital to the basic Adblock blocking ability.

· Tabbrowser Preferences. I love tabs! If you prefer to open links in tabs rather than new windows, this extension gives you loads of options.

· IE View. Unfortunately, there are still some pages that work best - or work only - in Internet Explorer. When you encounter one of these pages in Firefox and you have IE View installed, just right click and select "View page in IE." Internet explorer automatically launches and takes you directly to that page.

· All-in-One Gestures. This is something I liked about Opera, and I'm thrilled that I can now use mouse gestures in Firefox. By making combinations of gestures like up, down, left, and right with your mouse while holding down the right mouse button, you can execute all sorts of commands.

· OpenDownload. This is especially useful when downloading executable files. When the download begins, a dialog box opens with an "Open" or "Save" option. If "Open" is selected, the file will be downloaded and then launched via the default application set on your operating system. The downloaded file is then deleted from your system after 24 hours.

More extensions can be found here. They also have lots of extensions just for fun, like the Abe Vigoda Watch - Is Fish from Barney Miller still alive? Now you can see his status any time you want.

You can also subscribe to their RSS feed of the newest applications as they become available.

Happy surfing!
Posted by rigd0003 at 1:48 PM | Cool web stuff
Category "Cool web stuff"
August 17, 2005
Wikibooks - open content textbooks


Wikipedia and their parent foundation, Wikimedia, continue to impress me with their innovations in teaching and sharing information.

Now, as another boon to lovers of learning, I've just come across WikiBooks, Wikimedia's open content textbooks. And just like their encyclopedia, these textbooks are open to edits and additions.

· You can learn Spanish, Celtic Irish, or Klingon (no content on the Klingon yet);

· You can learn "How to Build a Computer", which won their Book of the Month Award;

· What about robotics, Shakespeare, or making armor?

· They even have children's books in their Wikijunior section.

Happy reading!
Posted by rigd0003 at 10:49 AM | Cool web stuff
Category "Cool web stuff"
August 4, 2005
My thesis will never be this cool...


One of the great things about the Internet is that it's a perfect showcase for how creative people are. I just found another example courtesy of Salon's Audiofile.

What started out as Baba Brinkman's Honors Thesis has turned into an interesting literary tribute. Brinkman's The Rap Canterbury Tales is a translation of sorts from Chaucer's work into a rap/hiphop rhyme.

I think it's a great example of using academic skills in new and exciting ways. Brinkman has used his knowledge of Medieval literature and strong belief in hiphop lyrics as poetry to translate Chaucer's words not just into modern English, but into the language of hiphop. There's a example of his translational style here.

I'm not a fan of rap or hiphop, but I still think this is a very cool idea.
Posted by rigd0003 at 5:13 PM | Cool web stuff
Category "Cool web stuff"
Category "Sports"
July 27, 2005
Baseball nibbler


The Internet is awash in baseball sites. Scores, statistics, analysis, blogs -- the list goes on and on. But one baseball site that just made Yahoo!'s pick of the week is a little different.

This Great Game is a web site that actually started out as a coffee table book about major league ball in the twentieth century. The content got so huge (and the estimated price for the book so high) that the authors, Eric Gouldsberry and Ed Attanasio, decided to transform it into a web site.

What I really like about this site is the esthetic feel of it. It kind of does fell like I'm flipping through a book, with a lot of attention paid to layout and design. All of the content is nicely grouped into a handful of sections. The best section, in my opinion, is The Yearly Reader. Each decade and every season is introduced with an interesting narrative -- a capsule of the decade or year that was. These are not exhaustive tomes, but concise and entertaining pieces that are perfect for a person like me who is more of a "nibbler" of information.

As I said, the seasons are grouped by decade. The 1910s are dubbed The Feds, The Fight, and The Fix; the 1960s: Welcome to My Strike Zone. As you delve into a season -- let's take last year's Four Score and Six Years Hence as an example -- you get links to the 2004 Standings, the Leaders & Numbers, and It Happened in 2004 (that last one always loads as really tiny, but point your cursor over it and click to enlarge).

There are other nice pieces, such as interviews and opinion essays (it's a new site, so there's only one essay at this point, about why the Rockies will never win a World Series). There's also a daily fix, called The Daily Comebacker, that highlights the hitter and pitcher of the day, among other stories, like the Derrek Lee Triple Crown Watch (go D. Lee!). And if you want some information fast, you can always do a quick look-up in the Index. Plus, it sounds like they're hoping to expand, putting up more features, photographs, and memorabilia.

Play ball!
Posted by rigd0003 at 9:36 PM | Cool web stuff | Sports
Category "Cool web stuff"
July 26, 2005
Shall we talk about the weather?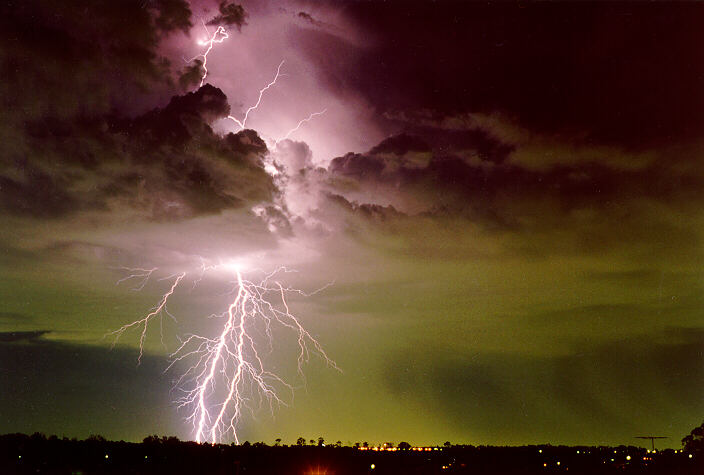 We've had some fairly good storms lately. (Not quite as dramatic as in this picture, which comes from an Australian outfit called ThunderBolt Tours.) I used to get frustrated trying to get weather information. Weather.com seems to be increasingly user un-friendly and hard to navigate to find what I want. In a spectacular "oh, duh!" moment, I realized I could get my information straight from the source -- the National Weather Service.

The NWS has great maps and radar, all integrated into the local forecast page and links to other information are easily identified in the left-hand column. It did take a bit of initial orientation, but I use it regularly now and I've no need to go anywhere else for weather information.

The home page has a map of watches and warnings for the entire nation. This is also where you can get current information on severe weather like hurricanes and tropical storms. To find your city, type it into the search engine at the left. This is the easiest way to find forecasts (local folks, here's Minneapolis and Saint Paul). The Forecasts--Local link (also on the left) has you clicking through several pages (and sometimes clicking on a particular county in a state map) to get you down to the city level, so it's not as convenient.

The radar images are fun. When you click on the Loop link, it loads a series of images (using Java) over the past hour and runs them in sequence so you can see how a storm is developing. The times shown are in Universal Time, Coordinated (UTC). It's basically the atomic clock equivalent of Greenwich Mean Time (GMT), which is five hours ahead of Central Daylight Time.

As I've explored the NWS web site, I've realized they have an insane amount of information.

· Want to know which rivers are above flood stage?

· What about the air quality conditions today? (Click on "Go to State" in the upper-left of the map to change the region.)

· Is the West still experiencing a drought?

· Did you know that this past May-June was the 9th wettest for Minnesota?

· This past January, the Twin Cities and Southern Minnesota got less than 40% of the average monthly snowfall.

· Lots more climate and temperature facts can be found at the climate monitoring site!

Truely, the NWS is a great service to the public!

Political aside: Unfortunately, Senator Richard Santorum thinks the NWS's bang-up job takes away opportunities for private companies to make a buck, so he authored this bill. Fortunately, I think it was done to appease the private companies that are based in his state of Pennsylvania, without the intention that the bill would really go anywhere, since there's been no action since it was introduced. (By the way, if you've never been to the GovTrack web site, you should check it out. You can search for representatives and monitor the bills that they've sponsored. Very cool!)
Posted by rigd0003 at 11:23 AM | Cool web stuff
Category "Cool web stuff"
July 18, 2005
Star Wars Fan Films


I'm a Star Wars fan, but I've just realized I'm not a fan. I'm so far out of the culture loop it took a foreign news site to educate me about fan films! I really enjoyed reading the recent BBC article on a new fan film, Star Wars:Revelations [note: direct link hasn't been connecting, perhaps their bandwidth has been overwhelmed?].

This 40-minute film was created and crewed by professionals volunteering their time and expertise. Shane Felix, a director, and his wife, a professional costume designer, put up the $20,000 to make the film and drafted other professionals for the 3-year project. More about the film and mirror sites for download can be found on a main Star Wars fan film site, theForce.net.

Another fun fan film site is atom films where they feature the 2005 Star Wars Fan Film Award Winners. I've got to check out the Trump show spoof, Sith Apprentice and movie spoof, Anakin Dynamite




Dynamite got mixed reviews, but this picture is hilarious enough to make me give it a go!
Posted by rigd0003 at 4:13 PM | Cool web stuff
Category "Cool web stuff"
Category "PhD Process"
July 6, 2005
Reference eBooks through University library


Here's a nice reference option I stumbled upon at the U of Minnesota's libraries that I thought I'd share.

I'm doing a little preliminary data analysis now. Well, mostly cleaning up the database and seeing what's there. I decided to use MS Access for these simple database management tasks. It's been a long while since I've used Access and I forgot some of the basic language the program uses for running queries. I wasn't up for trying to navigate the program's "help" so I did a little search on the University library's web page. I thought I might dash over to the library and look a few things up. It turns out I didn't have to leave my chair...

The library has a subscription to netLibrary.com, an eBook web site with a built-in reader and note-taker. I could just "check out" an Access reference book and do a search for the query language I was looking for right on my laptop. So cool! But there are some drawbacks. Here are some pointers:

· You need to have a University account (except for the public titles--see below).

· In addition, you need to create a separate netLibrary account to read the eBooks -- see this FAQ for instructions.

· Mostly, the library's eBooks are reference and how-to books, although netLibrary has 3400 books that are publicly accessible to everyone.

· The search function at netLibrary is good, but the browsing function is a bit limited. You can browse titles under broad categories like Agriculture, Arts, Chemistry, etc., but it doesn't seem like all 7411 available books (including the public ones) fit under these categories.

· Once you find a title you're interested in, you can add it to your list for easy reference or check it out immediately (under the "eContent Details" tab). Only one person can read a certain title at a time, so netLibrary manages this by allowing you access to it for 4-hour intervals.

· The reading interface is less than ideal. Your browser screen is split into two panes -- a tool pane on the left and the book content pane on the right. While you can slide the divider to make the book content pane larger, it still doesn't seem like enough room for large books like computer program manuals.

· Some of the features: the ability to add notes (limited to a title and 500 word content); a content search function; and an integrated dictionary, encyclopedia, web, and eContnet search functions by highlighting a word and right-clicking.


Happy reading!
Posted by rigd0003 at 10:49 AM | Cool web stuff | PhD Process
Category "Cool web stuff"
June 24, 2005
Flight tracker


From this week's edition of the Internet TOURBUS, a cool little web page for letting you know when you can expect those out-of-town guests. Head on over to RLM Software -- Flight Tracker and check it out.
Posted by rigd0003 at 11:32 AM | Cool web stuff
Category "Cool web stuff"
Category "Innovations"
June 14, 2005
Using Wikipedia for public health preparedness
One of the foundations of a good public health system is dissemination of information -- getting the knowledge about diseases and risks out to the public whom you are serving. There's lots of room for improvement and innovation in this area. That's why I was intrigued by an article on a outbreak reporting site -- Preparing for Influenza Pandemic at Wikipedia.

It turns out that people were using Wikipedia in the wake of the tsunami to get information. This has sparked an idea in the minds of the scientists who lay awake at night worrying about another flu pandemic (it's a fairly large club). Why not preemptively post information on the web about avian flu preparedness and prevention? The editors of ProMED-mail have started to bulk up the avian influenza entry and are encouraging other scientists to lend their expertise to the site.

Granted, the Web doesn't reach all the people, but I love the idea of using Wikipedia's strengths -- free, collaborative, fairly well known -- to help educate people around the world. That's cool!
Posted by rigd0003 at 11:36 AM | Cool web stuff | Innovations
Category "Cool web stuff"
May 27, 2005
In search of... summer reading


Summer is almost here and you may be thinking about expanding your reading list. With all the choices out there, it's hard to find a good book just by browsing through enormous categories like "mystery" or "novels." You may be in the mood for something funny, or dark, or challenging; you may want to read a story set in the Caribbean, or a book with a lot of plot twists, but how do you find a book that fits this mood?

I recommend giving whichbook.net a try. It's a web site developed by Openlibraries Ltd and Applied Psychology Research Ltd with the help of public libraries in the United Kingdom to help people find less well-known books by describing the kind of book they're looking for. The site features sliding scales for book mood and content, as well as plot and character descriptions. The main page uses Shockwave's Flash plug-in, but there is also a simple HTML-based version that replaces the sliding scales with drop-down lists.

Here's a look at how it works. Let's say I'm looking for a book with a young, female main character, set in the Mediterranean, with a plot that features a revelation. My search page would look like this:




I can stop here and click "go!" or continue to refine what I'm looking for. The above search example, by the way, came back with "The Birth of Venus" by Sarah Dunant, described as "a fascinating insight into early Renaissance Florence, this is an intensely imaginative novel, with a strong and captivating heroine."

The database does not include the biggest best sellers, but instead concentrates on books people might not find on their own. These are fiction and poetry published in English in paperback form since 1995. Entries are created by a team of 150 trained reviewers chosen by the libraries and literary organizations. Lists of the books included can be found here.

I usually cross-reference the book titles that are recommended with Amazon.com to get a more detailed description and reviewer comments. Using these sites together gives me lots of great book ideas.

Happy reading!
Posted by rigd0003 at 2:04 PM | Cool web stuff
Category "Cool web stuff"
May 26, 2005
Another cool search engine
I heard about another great search engine through the Internet TOURBUS. This one calls itself a "visual meta search engine" and has all the visual benefits of Grokker, but does a better job of naming the categories and provides them to you as both a visual graphic and as a list.

It's called KartOO, and it's got lots of bells and whistles, but many are presented in an understated way so they don't distract from the information.

When you type in a search, like "Bayesian data analysis", you get a graphic on the right and a list on the left. In the graphic, the larger the page icons, the more relevant the search. Icons are color coded for source type (.net, .com), and tell you if the page is a web page, a home page, a file (like PDF, Excel, or Word), or multiple web pages affiliated with a single site. Turning your attention to the list, you can further refine your search by clicking on any of the subheadings or categories that were identified by the meta search.

Another cool thing is that in most instances you're not limited to just one graphic -- to just one representation of the search results. At the lower right-hand corner of the graphic is a link to display the next map, which gives you another categorization scheme of the same search.

They also provide a toolbar you can download, but it only works for Internet Explorer.

Give it a try and see what you think!
Posted by rigd0003 at 5:11 PM | Cool web stuff
Category "Cool web stuff"
May 16, 2005
Search engine for visual thinkers
As a visual thinker, I find most search engines frustrating because the results are returned as a long list of links, with no indication of relationships. Often it takes a bit of trial and error find relevant content. It would be nice to have these results mapped out for me.

That's why I'm intrigued by a different kind of search engine tool called Grokker. It produces search results as a group of circular maps, combined by type or source of information. (The NY Times published a nice article about it last week.)

I don't see myself using Grokker to visualize searches like "pizza in Minneapolis" or to find a particular company's web site, but it could be really useful when I'm trying to understand a concept like "Bayesian analysis" or doing research on "lupus."

Do you grok it?
Posted by rigd0003 at 3:20 PM | Cool web stuff