« The joys of a tandem | Main | Baseball nibbler »
July 26, 2005
Shall we talk about the weather?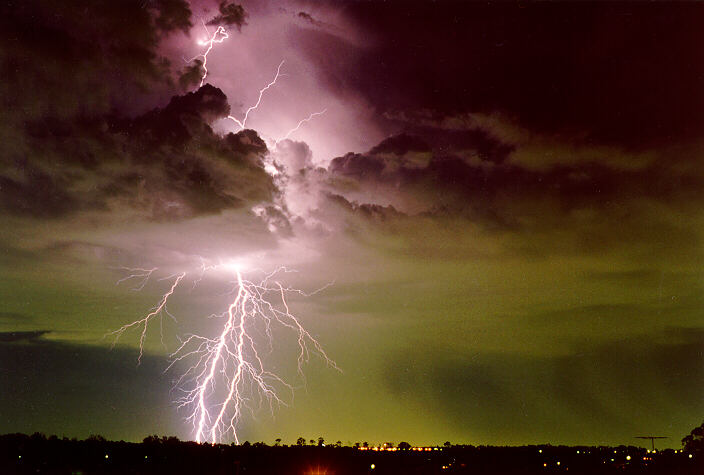 We've had some fairly good storms lately. (Not quite as dramatic as in this picture, which comes from an Australian outfit called ThunderBolt Tours.) I used to get frustrated trying to get weather information. Weather.com seems to be increasingly user un-friendly and hard to navigate to find what I want. In a spectacular "oh, duh!" moment, I realized I could get my information straight from the source -- the National Weather Service.

The NWS has great maps and radar, all integrated into the local forecast page and links to other information are easily identified in the left-hand column. It did take a bit of initial orientation, but I use it regularly now and I've no need to go anywhere else for weather information.

The home page has a map of watches and warnings for the entire nation. This is also where you can get current information on severe weather like hurricanes and tropical storms. To find your city, type it into the search engine at the left. This is the easiest way to find forecasts (local folks, here's Minneapolis and Saint Paul). The Forecasts--Local link (also on the left) has you clicking through several pages (and sometimes clicking on a particular county in a state map) to get you down to the city level, so it's not as convenient.

The radar images are fun. When you click on the Loop link, it loads a series of images (using Java) over the past hour and runs them in sequence so you can see how a storm is developing. The times shown are in Universal Time, Coordinated (UTC). It's basically the atomic clock equivalent of Greenwich Mean Time (GMT), which is five hours ahead of Central Daylight Time.

As I've explored the NWS web site, I've realized they have an insane amount of information.

· Want to know which rivers are above flood stage?

· What about the air quality conditions today? (Click on "Go to State" in the upper-left of the map to change the region.)

· Is the West still experiencing a drought?

· Did you know that this past May-June was the 9th wettest for Minnesota?

· This past January, the Twin Cities and Southern Minnesota got less than 40% of the average monthly snowfall.

· Lots more climate and temperature facts can be found at the climate monitoring site!

Truely, the NWS is a great service to the public!

Political aside: Unfortunately, Senator Richard Santorum thinks the NWS's bang-up job takes away opportunities for private companies to make a buck, so he authored this bill. Fortunately, I think it was done to appease the private companies that are based in his state of Pennsylvania, without the intention that the bill would really go anywhere, since there's been no action since it was introduced. (By the way, if you've never been to the GovTrack web site, you should check it out. You can search for representatives and monitor the bills that they've sponsored. Very cool!)
Posted by rigd0003 at July 26, 2005 11:23 AM | Cool web stuff
Comments
cool links, thanks! Wow, Iowa City's elevation is only 699ft! eeeee! that explains the mosquitos.
this is something i'll check regularly in addition to the Iowa Climatology Bureau
(http://www.agriculture.state.ia.us/climatology.htm), since our part of iowa (trapped between the Quad Cities and Des Moines) is in a drought.
Posted by: Anonymous at July 27, 2005 4:04 PM