Just another wild Saturday in college football
It's one of those Sundays when you feel as if you spent all of Saturday watching a foreign film without subtitles. You think you figured out what happened, but you're not sure you understood all of it.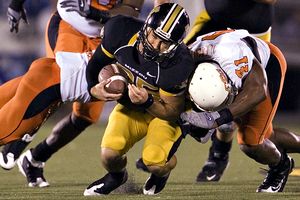 Chase Daniel and Missouri could not stay unbeaten and fell to Oklahoma State.
Anyone who needs order is granted permission to look forward to college basketball season. The 2005 season, when USC and Texas began and ended the regular season ranked first and second, is a long-ago memory.
But if it makes you feel any better, Texas is back. Hang on to that palliative while we recap the rest of the carnival ride of a college football Saturday.
Three of the top four teams lost and gave up an average of more than 41 points per game while losing. Oklahoma began Saturday No. 1. The Sooners ended it tied for fourth in the Big 12 South with Baylor.
Missouri quarterback Chase Daniel threw three interceptions in the second half of the second-ranked Tigers' 28-23 home loss to Oklahoma State. Daniel had thrown only one in Missouri's previous five games this season.
Northwestern and Vanderbilt are no longer unbeaten. That doesn't necessarily surprise anyone, but it's not a sentence you get to write very often.
Michigan lost to Toledo 13-10. Repeat the last sentence of the previous paragraph. The Wolverines, at 2-4, have three games against ranked teams remaining on their schedule: against Penn State, Michigan State and Ohio State. Michigan will have to defeat one of them to extend the sport's longest bowl streak of 33 seasons that began during the Ford administration, college football apparel.
Penn State and USC are the only teams in the top 10 that won by dominant margins. The Trojans defeated Arizona State 28-0. The Nittany Lions played their best game of the season at Wisconsin, winning 48-7.
But Penn State and USC are the exceptions. On this kind of Saturday, it made more sense not to play. Alabama, by remaining idle, stands as the last unbeaten team in the SEC.
California, by remaining idle, took over sole possession of the Pacific-10 Conference lead after Arizona lost 24-23 to a Stanford team that was playing a third-string quarterback.
Georgia Tech, by remaining idle … oh, wait a minute. Turns out the Yellow Jackets actually played a game Saturday. But it was hard to tell whether they knew about it. Georgia Tech's Derrick Morgan tipped a 43-yard field-goal attempt on the final play of the game to preserve a 10-7 victory over FCS squad Gardner-Webb. A week earlier, Gardner-Webb lost by the same margin to Charleston Southern.
If you can make sense of that, please share.