Punk Rock's History In The Twin Cities
Minneapolis has always been a city with a rich and cultural artistic tradition. Home of the Minneapolis Sculpture Garden, the Weisman Art Museum and the Orpheum Theatre, Minneapolis has a prestigious background in art. Luckily, there is one lesser focused-on "art" in the Twin Cities that defies all norms and completely demolishes the concept of "prestige." Loud, distorted, hell-raising, anti-establishment punk rock has a renowned history in Minneapolis. Plenty of influential figures in punk music trace their roots back to the Twin Cities metropolitan area. (And what better fan base for a band to debut in than the University of Minnesota students?) As an epicenter for Midwest-region punk rock, the City of Lakes is very much a significant part of the punk rock music scene as well as the host of some of the greatest rock music venues.

Early innovators of the Twin Cities punk rock scene emerged in the late 1970s. One of the first bands to pioneer the new rebellious sound was the Suicide Commandos, who are often declared as the "godfathers of Minneapolis alternative/indie rock" (Unterberger 319). Much of modern Twin Cities punk rock originated from their fast-tempo harder style, similar to that of the Ramones. The electric guitar rocks choppy power chords and fast, high-pitched riffs, while the rapid snare drumming dominates over the repetitive bass guitar. The Suicide Commandos were truly the groundbreaking band that established a new wave punk community in Minneapolis. Their lyrics emphasize a rebellious mindset, which is highlighted in their song "Burn It Down." Music fans and counter-cultural rebels of the Twin Cities discovered a soundtrack in their homeland. Following the success of the Suicide Commandos' unconventional new music, the early 1980s heard progressive punk rock bands that exploded onto the Minneapolis music scene. The Replacements' energetic rock crashed into the punk community in 1980 when they signed with Twin/Tone Records, a Twin Cities based record label. Their sarcastic and satirical lyrics often criticized authority figures, complimenting the anti-establishment lifestyle of the 80s punk rocker. The band was notorious for getting excessively drunk, sometimes resulting in messy playing at live performances. Due to their immature and fun attitude, their fan base expanded and prospered. The Replacements' juvenile behavior and reckless abandonment for traditional performances is widely practiced by later Minnesota based punk bands. Less pop sounding than The Replacements, hardcore punk band Husker Du formed in St. Paul in the early 1980s. They feature a heavily distorted, grungy guitar that is the predecessor to some present-day Minneapolis punk rock. Another notable group from the early Twin Cities punk world is Soul Asylum, whose guitar riffs and multiple vocalist singing influenced punk for years to come (Unterberger, Hicks, and Dempsey)(Pareles).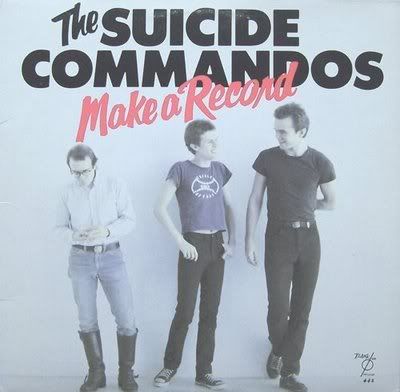 The sound of Minneapolis punk rock has evolved from the early days of the Suicide Commandos to its modern form, though the concept of defying social norms and having an anti-establishment mindset has remained at its core. Technological advances have made sound equalization more effective, thus giving current punk a partially cleaner sound. Present-day Twin Cities punk artists include rockers such as Misery, In Defence, Corpse Show Creeps, Off With Their Heads and Dillinger Four. Most of these Minnesota bands have a musical style that incorporates techniques from early Twin Cities punk rock. Off With Their Heads uses a throaty, chant-like singing technique that somewhat derives its origins from the Suicide Commandos. An example of this is heard with their repetitive outro in "Self Check Out." Off With Their Heads frequently tours with the rowdy punk rockers of Dillinger Four (T.C.S.P.)(Off With Their Heads).

Dillinger Four is arguably the most popular punk rock band to come out of Minneapolis. The band formed in 1994 and their sixth CD album, Civil War, was released nationwide in October 2008. Dillinger Four's sonic features combine crunchy distorted guitar that dominates over the vocals, along with popping drums and a booming bass guitar. Keeping in the spirit of the punk rock lifestyle, Dillinger Four is notorious for having a reckless and energetic tone to their live shows, much like The Replacements. With their undeniably exciting shows and fast shredding punk rock music, Dillinger Four has become a widely famous name in the Twin Cities region. Guitarist/Vocalist Erik Funk also owns the Triple Rock Social Club, the site of some of the greatest rock performances that come through Minneapolis (Dillinger Four).


Along with the Triple Rock Social Club, First-Avenue in downtown Minneapolis is a legendary music venue where many artists debut and make their mark on the scene. A First Avenue punk rock show is a concert like no other. The 7th Street Entry of First Avenue is a crowded and intimate setting; the former coatroom to the main stage is cramped, and the blaring punk rock reverberations coming from the stage will leave your eardrums ready to explode. Off With Their Heads and Dillinger Four performed a show at the 7th Street Entry in September 2008. The bands rocked the audience with their powerful energy, ripping guitar power chords, roaring electric bass and pounding drums. Dillinger Four really took the live concert to another level with audience interaction. The already pumped-up crowd of punk rockers only got rowdier during Dillinger Four's set as their crunchy guitar riffs flowed through and overwhelmed the listeners. They responded with mosh pits in front of the stage, along with stage diving. Every participant had a grin on his or her face; they were completely enthralled in the music. Audience members sang along with the lyrics of familiar songs as the vocalist held the microphone over them. It is clear that Dillinger Four is thoroughly experienced in playing concerts, deeming them one of the best bands to go see live. Their supreme combination of fast tempo instrumentals and lyrics about a shattered relationship or a flawed government are clearly the result of endless writing and band practice. Dillinger Four's rambunctious and disorderly attitude gives them the overall lifestyle that every punk rocker can relate to (7th St. Entry).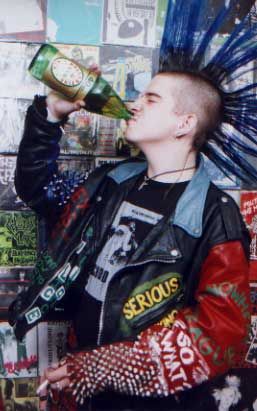 There's nothing that can bring together a collection of counter-cultural, anti-establishment rebels better than a punk rock concert. Typical punk rockers consist of (but are not by any means limited to) younger, lower class, white males that have a particular knack for defying the system, and breaking the norms. The punk rock image is often associated with dark clothing, peircings, tattoos, chains, "mohawks" or "liberty-spiked" hair, and possibly a black leather jacket with patches. Punk shows, such as the ones at First Avenue, give them an identity within a subculture where they share their musical interests. Most punk rockers can relate to the general punk lyrics of fighting corrupt authority, disregarding social values, or just simply partying and drinking. With venues widespread across Minneapolis and St. Paul and shows playing almost every night, the Twin Cities is an excellent scene for punk rock culture.

The Twin Cities have been, and still are, an outstanding source for punk rock bands and venues. From the early birth of Minneapolis punk with the Suicide Commandos, to the present-day punk rock icons, Dillinger Four, the Twin Cities has been the homeland of some of the most influential punk music of our time. The rampant excitement of the punk rock concert is captured in every First Avenue or Triple Rock show, pumping adrenaline through the listener as each guitar note resonates in their ear. There's something about the defiance, vulgarity and noise of Twin Cities punk rock that makes it just so radically awesome.